Oh Goody! A place to share sparkles and wonder with adorable accomplices!
Ready, Set, Learn Programs take place in every elementary school in Vancouver, BC and are open to families and caregivers with children who are 3 years and older. The purpose of the program is to give children and their families/caregivers resources (and access to resources) that will enable children to have rich learning experiences prior to entering formal schooling and in their primary years.
I was hired to be an entertainer who engages the kids in music and movement.
Kudos to the school system for seeking out fun and educational children's performers. "Ready, Set, Learn" is all about providing good information on how to support a young child's early learning and development.
I love creating songs for kids that have feel good messages, new words for their vocabulary and are written in all kinds of musical styles. I have been honoured to perform my sing-and-dance-along show for "Ready, Set, Learn" in a dozen schools around the Metro Vancouver Area.
A big THANK YOU to you again for the amazing performance you did today at Thunderbird! We all LOVED your fabulous energy, catchy songs, infectious energy and beautiful voice! The kids, teachers, parents and staff had so much fun and the little preschoolers were totally into it too!

– Janey Lee, Kindergarten Teacher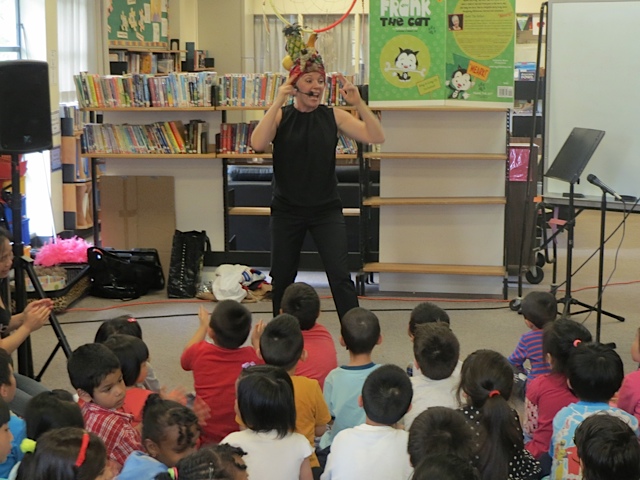 Thank you so much for your excellent show for Carnarvon. It was very professional and fun and the kids have been singing the chorus to the Disco Dinosaurs non-stop. They all thought you were awesome.
We all loved your show and your backup team
Many Thanks
– Elizabeth Bell, Teacher Librarian
Carnarvon Elementary